The first three years for the Cane Corso at the Greatest Dog Show on Earth
The Westminster Kennel Club Dog Show
2011 - The Press Events
The year 2011 was the first year for the Cane Corso being accepted into the American Kennel Club (AKC) and the first year for the breed being shown at Westminster.

After a successful summer of showing CH Stanley Pat Chopper we had the distinct honor and privilege of being asked by the AKC to participate in the press events the week prior to the event.



Westminster uses multiple press events as a World Introduction for all new breeds accepted into the AKC that year.

We started out with the press conference held in The Pennsylvania Hotel.

From there we did LIVE satellite radio. The next day we did a professional photo shoot with Time Magazine and ended the day attending the closing of the NASDAQ® Stock Exchange.

Our final press event had us up at 4:30am in the green room getting ready to appear live on the NBC TODAY Show with Westminster's own David Frei and NBC's Lester Holt!!!

We will forever be grateful to the American Kennel Club for allowing us to be part of these great events and they are memories we will cherish for a lifetime!


2012 - Best of Breed
We came into Westminster on quite a roll and as one of the favorites.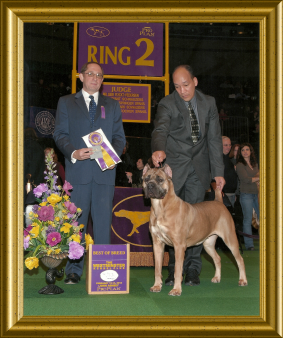 We were the #1 ranked female Cane Corso in the United States.

It was a magical day in the show ring as you could feel the electricity in the air - everyone was there and everyone had brought their "A" game.

At the end of the day though it was clear that Josie and Daniel Rosa had indeed stole the show with one of the most memorable and impressive performances ever seen in a dog show anywhere!
JOSIE - BEST OF BREED 2012
Seeing Josie's picture appear on the score board high above Madison Square Garden is something I simply cannot even begin to describe ...

Special thank you to Judge Eric Ringle


2013 - Best of Breed
As returning 2012 Westminster Breed winner we once again we came in on a roll.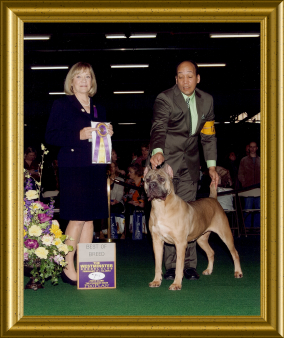 This year as we entered the arena we were not only the #1 Female Cane Corso in the country but also as the #1 Cane Corso in the United States.

All summer long Josie had made history by winning more group placements than any other Cane Corso in AKC history!

Again, the competition was fierce and all the big guys were there and ready to go.

The judging seemed to go on forever that morning and no one seemed to know for sure who she really had her eye on.

After all the cuts were made and the judge sent them around the ring yet one more time, I knew the impossible was about to happen again!!!
JOSIE Best of Breed 2013!!
Last year was incredible but the win this year was even more emotional than last.

What went into making this incredible year happen will truly only be known by a select few but when you looked at the team ringside and the reaction in the ring from our amazing handler Daniel Rosa, it was clear what had just happened and what this really meant !!!

Special thank you Judge Dorothy Collier
---
---